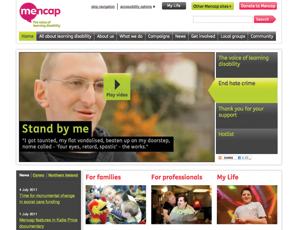 The learning disability charity relaunched its website after criticism the old site was too rigid and impeded development, finds John Plummer
Organisation: Mencap
Agency: Enable Interactive and Cameron & Wilding
Spend: £120,000
Accessibility: WC3 AA
Mencap is a charity that helps people with learning disabilities and their families.
Development
Last year, Mencap carried out an assessment of its old site, which was launched in 2008 when the charity rebranded. One criticism was that the technical platform was too rigid and prevented the site from developing. The charity wanted something more modern. It hired the web company Cameron & Wilding to improve the technical aspects and Enable Interactive, which has subsequently ceased trading, to improve the design. Redeveloping the site took six months.
Design and content
The old site was divided into sections for families and professionals, but this proved confusing for some visitors and has been dropped.
The new site, which was launched in June, a fortnight before Learning Disability Week, still uses many videos, which are popular with people with learning disabilities, and there is more easy-to-read content in large letters and clear language. A donate button appears on every page.
Special features
A new community section allows users to chat with each other, read blogs and discuss issues. There is also an events calendar and a new transactions system that processes payments online. The site is uncluttered and easy to navigate.
Mencap says: "We now have a fantastic platform to develop the site and increase our web presence."
Score:
Navigation: 5
Accessibility: 4
Innovation: 3
Content: 4
16 out of 20