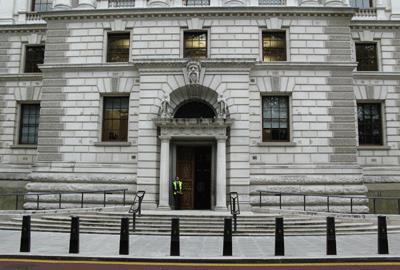 The Treasury has hit back at critics of its plans to limit relief on charitable donations
The Treasury has defended its plans to cap tax relief on charitable donations by revealing that some multi-millionaires paid less tax than people earning £20,000.
The figures, gathered by HM Revenue and Customs and published by the Treasury, show 9 per cent of people earning more than £10m a year paid less than 20 per cent in tax in 2010/11.
A statement from the Treasury said the figures showed some of the wealthiest people in society used tax reliefs to lower their tax bills below the basic rate of income tax. The data did not include the amount of relief claimed on charity donations as distinct from other reliefs.
A Treasury spokeswoman said: "There are currently millionaires paying a lower tax rate than ordinary taxpayers. This is the system we have at the moment, but the government is committed to making it fairer. We're capping benefits and these figures clearly show why it's fair to cap tax reliefs for the wealthy as well."
The government released the figures following outrage at its plan to limit tax relief people can claim in a year to either £50,000 or 25 per cent of a person's income, whichever is higher, from April 2013. This would include relief on charitable donations.
Almost two-thirds (65 per cent) of Conservative and Liberal Democrat backbenchers said tax relief on donations should be exempted from the cap. A ComRes survey of 71 government backbenchers, commissioned by the Charities Aid Foundation, found 93 per cent of respondents thought the government should "do all it can to use the tax system to encourage charitable donations from wealthy donors".
Over the weekend, a group of 46 prominent philanthropists also hit out at the plans in a letter to the Sunday Telegraph. The group, which included Gordon Roddick from the Roddick Foundation and Thomas Hughes-Hallett, chief executive of Marie Curie Cancer Care and chair of the Philanthropy Review, referred to the cap as a "brake on philanthropy". Hughes-Hallett signed the letter in his capacity as founder of The Emily Hughes-Hallett Fund,
Meanwhile, the Financial Times newspaper reported this morning that the Chancellor, George Osborne, could be considering concessions to the plans, including a separate tax relief cap for donations of up to half of an individual's income or allowing donors to carry over unused tax reliefs for donations into future years.
At the same time, an e-petition urging the Treasury to scrap the rise in VAT for renovations of listed churches has reached 12,402 signatures. The petition, set up by Janet Gough, director of the Church of England's cathedral and church buildings division, said the tax hike would "seriously threaten" improvement works.
Visit our Big Issue for recent stories and background on the government's tax relief cap proposals