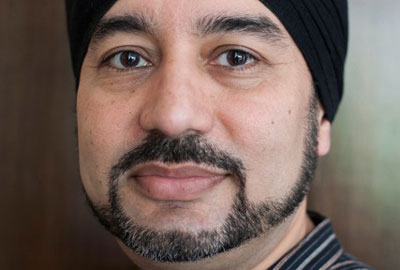 Balwant Singh, chief executive of Kusuma Trust UK, says its founder would be discouraged from donating even though he does not benefit from tax relief
One of the UK's leading philanthropists and his peers would be discouraged from donating money in the UK because of the government's planned tax relief cap, according to the chief executive of his UK foundation.
In a letter to the Chancellor, George Osborne, Balwant Singh, chief executive of the London-based Kusuma Trust UK, outlines why its founder, Anurag Dikshit, decided to set it up in the UK with a £253m endowment in 2008.
Osborne announced in the Budget in March that from April 2013 the government intended to cap the amount of tax relief an individual can claim in any year to a quarter of their income or £50,000, whichever is higher. This includes tax relief on charitable donations.
Singh says in his letter that Dikshit, who was named in the Sunday Times Rich List 2011 as the UK's top philanthropist, could have chosen to establish his trust anywhere in the world. Singh says that as Dikshit was not a UK tax resident at the time that the trust was endowed, he was not able to claim any tax relief on the endowment, so this was not a factor.
"Our founders chose the UK because of its strong regulatory environment, and, crucially, its culture of supporting philanthropy," he says. "This led to the creation of jobs here in the UK, with all of the benefits that brings to our economy."
But he says that if Dikshit was looking for somewhere to donate in the future, he would look elsewhere – the rest of Europe, the US or India.
"Despite the fact that a tax relief cap would not have any personal financial impact on Anurag, he feels strongly that the proposed changes to the system would discourage him and his peers from donating money in the UK," the letter says.
It says that either a government supports the philosophy behind philanthropic giving, or it does not. "Assuming the former, the government has a responsibility to do everything it can to demonstrate that philanthropists are welcome here," he says. "Intentionally or not, the proposals give the opposite impression."
Singh suggests changes to the government's proposals, including all donations to charity to be exempted from the tax relief cap, placing the cap at a higher level and allowing individuals to spread their charitable donations across financial years in order to maximise the exemption.