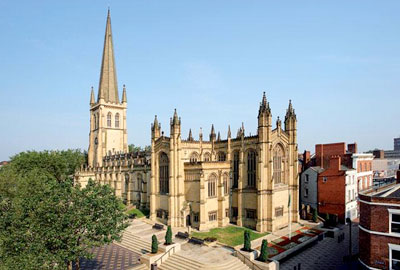 Wakefield Cathedral has stopped repair work because it cannot meet the cost
A proposed compensation for the loss of a VAT relief on alterations to listed churches is unlikely to make up for the money lost, according to the Archbishops' Council of the Church of England.
In the Budget, the government removed a relief that allowed "approved alterations" to listed buildings to be zero-rated for VAT. The Treasury said this was aimed at ensuring that wealthy owners of listed buildings paid the same tax as everyone else.
About three-quarters of the organisations affected are likely to be churches, charities and community organisations, according to estimates by the Charity Tax Group, which says the cost to the voluntary sector is likely to be about £60m. The Archbishops' Council, one of the leadership bodies of the Church of England, says it expects the cost to its churches be £20m.
Wakefield Cathedral has had to halt repair work to its building halfway through because it cannot meet the extra cost.
To compensate churches for the loss of the scheme, the government has promised an extra £5m to the existing listed places of worship grant scheme, which provides £12m a year for VAT relief for repairs to churches and other religious buildings, which – unlike alterations – are already standard-rated for VAT.
Lord Sassoon, the commercial secretary to the Treasury, said last week the government might provide more cash.
"We accept, having seen the churches' numbers, that the VAT change will indeed be more than £5m and that we need to commit more money," he said. "Discussions will continue next week to look at what the projected numbers and our commitment should be."
A spokesman for the Archbishops' Council said today that the listed places of worship scheme was less useful to churches because it was public expenditure, rather than a tax relief.
"As a sort of concession it seems the Chancellor has said expenditure on alterations, as well as repairs, will now be eligible for this scheme, and it will have some extra money," he said.
"But it's pretty easy for the government to get rid of public expenditure. This scheme has already got less generous since it was introduced. It's already being used pretty much at capacity.
"What's particularly unfortunate is that a lot of this work is for community use and is the sort of thing the government should encourage."
He said the existing relief for alterations should not be scrapped, but should be limited only to buildings in charitable and community use.
"I don't think anyone is suggesting a millionaire should get VAT relief when he puts in a swimming pool in the basement," he said.