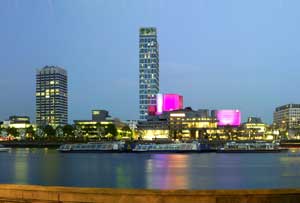 A social enterprise developer has had to spend £500,000 on a public inquiry after its application to build a block of flats to fund a community leisure facility on London's South Bank was challenged by Hazel Blears, Secretary of State for Communities and Local Government.
Coin Street Community Builders, which has been planning the regeneration of the Doon Street site for the past eight years, plans to sell luxury flats in the 43-storey tower block to finance a sports centre run by social enterprise leisure trust Greenwich Leisure.
It originally wanted to make some of the flats in the tower available for social housing, but the plans fell through.
Lambeth Borough Council and the Mayor of London approved the development last summer, but Blears announced an inquiry because of concerns raised by English Heritage. These include the fact that the tower will be visible from the courtyard of Somerset House and will "harm" the view of Whitehall from St James's Park.
"We advised the applicant at the pre-application stage that we could not support the residential tower element of its scheme," said a spokeswoman for English Heritage. "English Heritage strongly supports the redevelopment of this site and the provision of community facilities, but this could be achieved with two or three lower towers that would have little impact on the historic environment."
Other organisations to have opposed Coin Street's plans include the charities Save Britain's Heritage, the Waterloo Community Development Group and historical preservation society the Georgian Group.
Blears has not challenged the building by private sector developers of the Beetham Tower and 20 Blackfriars Road Tower, which are of similar height to Doon Street.
Iain Tuckett, group director at Coin Street, said: "Our proposals seek to secure much-needed community facilities and programmes on a long-term basis."
The inquiry ends on Friday.