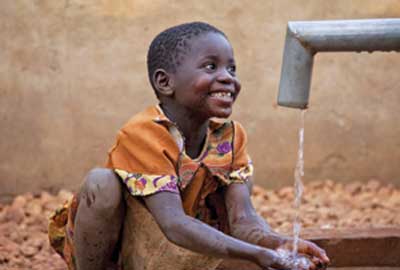 The international development charity teams up with the bottled water social enterprise
If the ideal corporate partnership were conceived by a charity, it would come close to this one. The international development charity WaterAid receives a guaranteed £100,000 a year, to be spent however it sees fit: in return, all it has to do is agree to the use of its name on the side of a product.
The partnership is with Belu, the social enterprise launched in 2004 by the environmentalists Ben Goldsmith and Gordon Roddick, whose bottled water is sold to restaurants, hotels and bars. "This is almost like WaterAid have a trading company without owning it," says Karen Lynch, managing director of Belu.
Belu was created with the intention that it would donate all its profits to clean water projects, but it didn't make any profit for five years. The charities it has worked with - including WaterAid and Thames21 - were funded on an ad hoc basis until the social enterprise became profitable.
Belu now says it will make a minimum of £100,000 profit a year. It has chosen to work exclusively with WaterAid, partly because Belu's market is in the UK and WaterAid is based here too.
Each bottle of Belu will display a commitment to donate at least £300,000 to WaterAid projects over three years, though the actual amount could be larger. Lynch says she hopes it will be a "forever partnership".
Mike Foster, WaterAid's head of communications, says the arrangement will enable the charity to concentrate on its projects. "Our priority is to deliver water sanitation and hygiene in the developing world. That's where we want to put our resources."