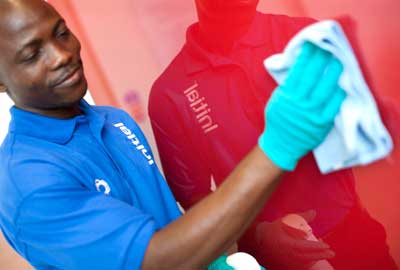 The partnership between the cleaning company and the charity helped people overcome barriers they face in finding work
The partnership between Lancaster Cleaning and Support Services and the charity Tomorrow's People has not raised a single penny. But the scheme uniting the two organisations has made an integral contribution to achieving Tomorrow's People's mission of getting unemployed people into sustainable jobs.
Since winning the Business Charity Award for the best Employment Scheme in May 2011, the partnership, which provides Tomorrow's People clients with accredited cleaning training, has been extended beyond east London to Bristol and Plymouth. Lancaster hopes that the training project will eventually be extended throughout the UK.
Skills for life
The partnership began after a recruitment consultancy put Lancaster in touch with Tomorrow's People, a charity that assists those who feel they have "insurmountable barriers" that prevent them finding work, such as depression or alcohol or drug addiction.
Lancaster, a family-run cleaning firm that was acquired by the hygiene company Rentokil Initial in 2007, is centred in London and has a strong presence in the City of London, Canary Wharf and the West End.
Under the partnership, Tomorrow's People clients in east London, which include lone parents, vulnerable young people and ex-offenders, are provided with cleaning training by Lancaster. Before winning the award, 213 of Tomorrow's People clients undertook the training and 159 were given jobs with the firm. Since the award, a further 33 have been trained, 20 of whom have received employment with Lancaster. Another 33 people have been trained at Lancaster and gone on to find employment at other companies.
Sam Sheerer, communications and corporate engagement manager at Tomorrow's People, says: "Even if they didn't manage to get a job with Lancaster, those who undertook the training will have that skill for life. And Lancaster has been particularly focused on getting people into sustainable work, supporting people to move up the career ladder once they are in Lancaster."
For example, Milton Teixeira, a Tomorrow's People client, started at Lancaster in February 2010 as an entry level operative. He then became a team leader and was recently promoted to be a supervisor. He now looks after the UBS building at Liverpool Street in London.
Added commitment
Since winning the award, a dedicated manager has been appointed at Lancaster specifically to oversee the relationship with Tomorrow's People.
Lancaster's account managers credit the partnership with making recruitment much easier. Retention rates have also improved.
Greg Mavroudis, recruitment officer at Lancaster, says: "The award has had a positive effect on those involved in the initiative, providing added motivation to continue all the hard work that has taken place. This success has ensured recognition not only internally, but also from wider business and the local community. This has resulted in added commitment and funding to continue the scheme."
The firm is also using the Business Charity Award as a selling point when talking to existing clients and trying to win new business. "We are now using this achievement to strengthen our relationships with existing clients, as well as including details within all new tenders," says Mavroudis. "It has made a great impression with some of the company's most prestigious customers, especially in the banking sector."