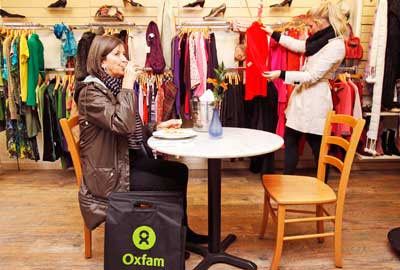 The pizza restaurant chain more than doubled its orginal fundraising target as part of its partnership with the charity
The campaign lasted a matter of weeks in the run-up to Christmas 2010, but the relationships established by the Fighting Poverty, One Goat at a Time partnership between Oxfam and restaurant chain PizzaExpress have been remarkably enduring.
The campaign won the Cause-Related Marketing prize at the Business Charity Awards in May 2011 and involved giving Oxfam customers who spent more than £5 in its shops or online a £5 voucher for PizzaExpress. The pizza chain then made a donation of £1 to Oxfam for every main course purchased in its restaurants. In total, £285,000 was raised for the charity, almost double the original target of £150,000.
Regular communication
The money was used to purchase 11,400 goats and other farm animals for poor communities worldwide, but predominantly in Africa. Some of the funds were also used to pay for vaccinations, veterinary care, training and medication.
Jane Botros, head of external communications at PizzaExpress, says that the two organisations continue to work closely together: "The relationship was such a positive one, based on shared values and like-minded brands and a similar way of working. We probably talk every other week and we are constantly sharing ideas."
Oxfam and PizzaExpress will probably work together again, although nothing is planned for this Christmas. Chris Ashworth, corporate partnerships manager at Oxfam GB, says: "The Christmas 2010 campaign was a time-bound initiative. The challenge now is to explore other productive ways we can both benefit."
The £5 PizzaExpress promotion featured on the home page of Oxfam's website for six weeks and 200,000 Oxfam supporters were informed about it in e-newletters.
Oxfam wristbands were distributed to 9,000 PizzaExpress staff to get them involved. A dedicated PizzaExpress and Oxfam webpage was created, and an email offer was sent to 3.6 million people on the pizza chain's database. A further 76,000 names were added to its database as a result of the campaign.
The crucial aspect of the partnership, according to Ashworth, was that it was not a traditional 'charity of the year' relationship, based on criteria set by the corporate partner. "Like many of the best partnerships, it started with a small conversation," he says. "There wasn't a vetting or tendering process on either side. Before we started the campaign, we tried to understand PizzaExpress's strategies and challenges, and it did the same in relation to us."
Principle of added value
Ashworth says that the partnership has reinforced Oxfam's approach of adding value to their corporate partners' work. "It was a very public demonstration of those principles," he says. "As long as you are able to begin relationships on that footing then you are both open to innovation and solving each other's challenges."
Botros credits the Fighting Poverty, One Goat at a Time campaign with lending a sense of fun and camaraderie to PizzaExpress, which extended to putting goat jokes in Christmas crackers in PizzaExpress restaurants.
"The fact that it was such a fun and engaging campaign, but still a force for good, was great for our teams," she says.
Botros says that dialogue with Oxfam continues. "Chris and I are talking the whole time. Because it was such an intense campaign, we worked as a genuinely tight-knit team."
Ashworth adds: "Both parties are adding to each other's audiences. The impact of the campaign, the fact that we've won awards together, raises the profile in the business community."