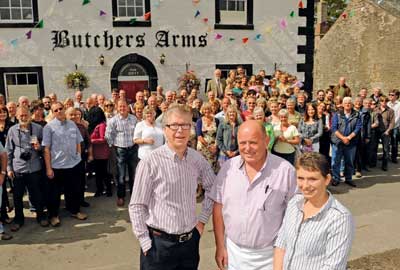 Last year's award winner the Co-operative Enterprise Hub has played a key role in reviving interest in organisations owned and controlled by their members
When the
Co-operative Enterprise Hub
was set up in 2009, the movement was experiencing a period of decline. But since its creation it has been at the forefront of a resurgence of interest in creating organisations that are owned and democratically controlled by their members. In fact, there has been a 21 per cent rise in the turnover of cooperatives since 2008 and an 18 per cent growth in the number of cooperative organisations, according to the hub.
Angela Davies, cooperative development manager at the Co-operative Group, says: "We feel that there are people out there looking for an alternative way to organise business. Hard-and-fast capitalism isn't the only answer – there are cooperative solutions to be had too."
Last year, the hub's efforts were recognised at the Business Charity Awards, where it won the social investment prize. This year, the category has been renamed the Community Impact Award to recognise a business that has provided vital support to a charitable project that has made a strong social impact.
Winning the Business Charity Award was a valuable way of recognising the efforts of the hub's staff over the previous two years, says Davies. The award win was posted on the Co-operative Group's intranet and it was also announced at the hub's first national conference, held in Leeds in May. "All delegates at the conference were delighted to hear that the hub had received the award," says Davies. "It is truly motivational and rewarding to receive such great external recognition."
The hub provides up to four days of free advice and training for new and existing cooperatives, and offers funding for registration costs. So far it has supported almost 700 cooperatives, some of them worker-controlled enterprises and others owned by consumer members. It estimates that it will help its 1,000th cooperative some time in 2012.
On average, the cooperatives receive 3.4 days of support, which ranges from advice about registration to guidance on how to maximise support from members or the local community. "That's the beauty of the advice," says Davies. "This isn't an off-the-shelf model that we use. One of our advisers will in the first instance meet with that group and talk through the cooperative options that they have. They will devise a package of bespoke support, tailored to their needs. I think that's quite rare."
Those helped have varied from arts and media companies to environmental groups and social care organisations. Since winning the award last May, the hub has helped to raise £125,000 through a community share issue for a cooperative hydroelectric scheme in North Yorkshire. It has also assisted the Butchers Arms, a Cumbrian pub that had been closed for a year, to reopen as a cooperative.