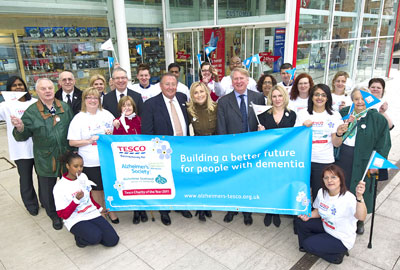 Collaboration with Alzheimer's Society and Alzheimer Scotland is the supermarket chain's most successful yet
Tesco's charity of the year partnership with the Alzheimer's Society and Alzheimer Scotland has raised £7.5m for the two organisations, according to the final figures.
The total comfortably outstripped the target of £5m for the year, which ran to the end of February. Clic Sargent, the previous charity of the year, received £7.2m from its partnership with the retailer.
The Alzheimer's charities said the money would help more than 100,000 people over the next five years, and had already been used to fund research fellowships, increase capacity for a dementia helpline and recruit 25 support workers.
The money was raised through more than 4,000 fundraising events involving staff and customers, including sky-diving and trekking up Mount Kilimanjaro.
Jeremy Hughes, chief executive of the Alzheimer's Society, said: "The amazing £7.5m raised by Tesco staff and customers will make a huge impact on the quality of life of people living with dementia.
"We have been overwhelmed by the great response we've had from Tesco staff, showing their support for the cause by smashing the fundraising target so we really can make huge strides in the fight against dementia."
Ruth Girardet, corporate responsibility and community director at Tesco, said this had been the company's most successful charity partnership so far.
Cancer Research UK has taken over from the two organisations as the supermarket's charity of the year for 2012.