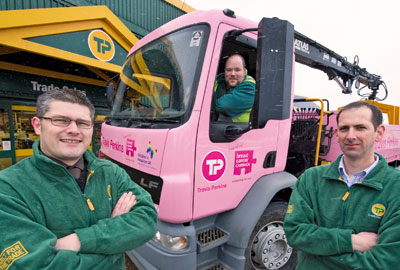 Awarded to a business that has excelled in helping the community by embedding a culture of supporting charitable causes at all levels of the organisation
Highly commended
- Greggs
Finalists
- Keyline Builders Merchants
- St James's Place Wealth Management Group
- Zurich Insurance
Whether it is dressing up as superheroes, cycling the length of the country or donning a pink polo shirt, staff at branches of Travis Perkins, the building supplies firm, have thrown themselves into charity fundraising over the past year.
Their enthusiasm has been spurred on by senior managers, who have set staff the challenge of raising hundreds of thousands of pounds for good causes.
The transformation began when the wider Travis Perkins Group asked each of its businesses to adopt its own charity partner. In January 2010, Travis Perkins launched its two-year partnership with Breast Cancer Campaign and Together for Short Lives - formerly Children's Hospices UK.
The aim was to boost awareness of the charities, raise £160,000 for each over two years and unite its 8,000 staff in more than 600 branches by taking part in fundraising activities. Another aim was to generate publicity for the firm.
The project has exceeded all expectations. So far, it has raised £820,000 for its charity partners and thousands of its staff are now involved in fundraising activities.
The initiative was launched with a fleet of its delivery vehicles being sprayed pink and displaying the charities' logos.
A 'Travis Pinkins Day' was held during Breast Cancer Awareness Month in October and a pink version of the Travis Perkins polo shirt was produced for staff to wear in return for donations.
Each May, staff dress up as superheroes in support of Children's Hospice Week and many now volunteer at their local children's hospice.
The company's fundraising strategy is managed by a central charity committee of senior managers and employee representatives from each of Travis Perkins' four regions. Each region also stages an annual challenge. Last year, for example, 380 people took part in the South East region's Thames Walk, and the firm's tool hire team cycled from Lands End to John O'Groats twice.
Some areas have created fundraising league tables to encourage branches to get involved. Branches in the north were offered an extra day's holiday if they raised more than £1,000.
In the light of the success of the first two years, the company has extended its partnerships with Together for Short Lives and Breast Cancer Campaign for a year.
Judges praised the firm's creativity, imagination and innovation in making this somewhat unlikely relationship succeed.
As Douglas Rouse, director of corporate partnerships at Save the Children and one of the judges for this category, explained: "It's not an obvious fit, but it works really well."
- See who the other winners were at this year's awards