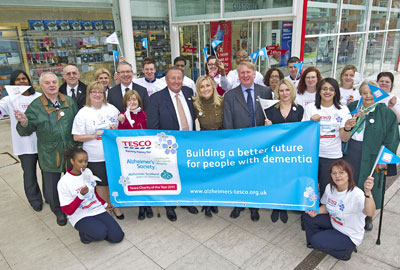 For an outstanding partnership between a company in the retail, leisure or FMCG sector and a UK charity
Highly commended
- Boots UK with Macmillan Cancer Support
Finalists
- Asda with Breast Cancer Campaign and Breast Cancer Care
- Iceland with Alzheimer's Research UK
- Lidl Northern Ireland with Ulster Cancer Foundation
- Sainsbury's with The Scout Association
The supermarket chain Tesco set itself the target of raising £5m for its 2011 charity of the year partner, the Alzheimer's Society. But thanks to the efforts of staff and customers, it managed to smash the target and raise an impressive £7.5m in only 12 months.
But the partnership was about more than raising money: equally important was the attempt to increase the level of diagnosis of dementia. The society estimates that only 40 per cent of those living with the condition have been diagnosed, which prevents many people from getting treatment.
To tackle this problem, the charity and supermarket are running Dementia Community Roadshows, where information stands are set up in Tesco stores and car parks. The stalls, which will continue until 2013, provide information for anyone with questions about dementia and those who are worried about their memory.
Last year, Tesco invested considerable resources in ensuring the success of the partnership. This included putting in place a charity of the year management team to oversee the partnership and appointing a charity champion and committee in every store and Tesco office. It also topped up staff fundraising by 20 per cent.
All 300,000 Tesco staff were informed about the partnership through fundraising packs and a film, which was shown at all Tesco locations. Staff received regular updates about the success of the partnership throughout the year.
Cause-related marketing campaigns were run in stores and special one-off events were held, including a health and beauty event involving 11 suppliers. This raised £377,000.
On the charity side, 16 staff from across the fundraising, marketing and PR departments at the Alzheimer's Society were allocated to run the partnership. It also mobilised its army of volunteers, who held collections at more than 600 Tesco stores.
The partnership generated significant coverage in the media. In fact, the launch of the campaign achieved more national media coverage in one day than the previous charity of the year partnership achieved in a year. In total, there were just under 1,500 mentions in the media over the course of the year.
As a result of the money raised, an estimated 10,000 families will receive the assistance of dementia support workers over the coming years, two scientists will be funded to carry out research and capacity will be increased for the National Dementia Helpline.
Javed Khan, chief executive of Victim Support and one of the category judges, said: "Tesco managed to galvanise the energies of its staff nationwide, smash its fundraising targets and also raise awareness of dementia among its customers."
- See who the other winners were at this year's awards