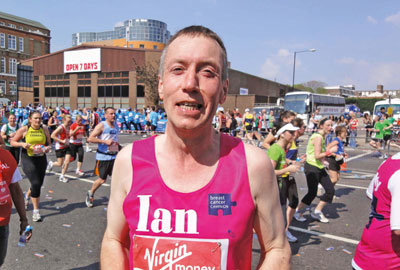 Awarded to a business leader who has excelled in promoting corporate support for charities in his or her own company and generally across the private sector
Ian Church is clearly a hard man to say no to. He has been a driving force behind Travis Perkins's charity work and must claim some of the credit for the building supplies firm being named Business of the Year in this year's awards.
He has led by example by clambering up mountains as part of fundraising challenges, but has also used his business contacts and considerable powers of persuasion to encourage employees and customers to take part in the firm's charitable activities.
Church began his career with the company in 1980 as a management trainee and moved up the ranks in 2006 to become managing director of the Midlands region with responsibility for 140 branches. It was around this time that he made his first big contribution by organising the first Travis Perkins Midlands Charity Ball, which raised £17,000. The ball has evolved into a national event and has raised £281,000 since 2006.
Another of his big achievements was to persuade the entire board of regional directors to take part in the daunting Three Peaks Challenge in 2008. This also became an annual event for the company.
In 2009, Church was given the job of leading the Travis Perkins Group's charity fundraising across the company's four regions. He formed a national charity committee that selected two charities - Breast Cancer Campaign and Together for Short Lives (formerly Children's Hospices UK) - as its first partners.
The collaboration between the building firm and the breast cancer charity has led to some innovative fundraising, including the creation of limited-edition pink products such as saws, buckets and wheelbarrows, aimed at the company's mainly male customers.
And it was Church who authorised the pink respray of 30 of its 18-tonne delivery trucks, emblazoned with the two charities' logos, as part of the campaign. The fundraising partnership has raised £820,000 to date.
Other initiatives include the annual 'Travis Pinkins Day', and some branches have set up permanent Pink Charity Zones where customers donate cash in exchange for playing darts, golf or football.
The judges were impressed by Church's unwavering commitment to charity work. "He never gave up on it as his career developed," says Simon Fletcher, one of the judges for this category. "He made brave and big decisions and created initiatives that really made an impact."
Church left the firm in September 2011 to become managing director of Plumbing Trade Supplies, another business in the Travis Perkins Group.
"Ian has left a legacy of charitable giving and high employee engagement," said the firm in its entry.
- See who the other winners were at this year's awards