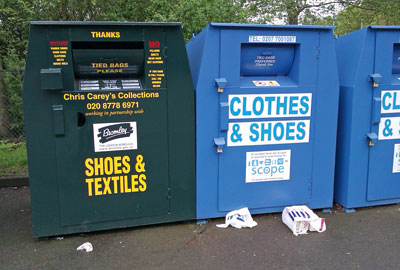 Some London councils are considering putting a joint recycling contract out to tender, reports Sophie Hudson
Last week, Scope said that more than 1,000 people had signed its petition calling for Bromley Council to reverse its decision to exclude charities from clothing recycling banks in the south-east London borough.
It is not the first time that a council has ended charity involvement in clothing recycling banks. According to the Charity Retail Association, Hertfordshire and Northumberland county councils and a number of councils in Wales recently put the running of clothing banks out to tender, and charities were unable to compete with private companies.
"Formal contracting has led to charity banks being entirely removed in some parts of the country, or charities being offered much smaller numbers of inadequate, secondary sites, threatening the profitability of their operation," the CRA said in a recent report for London borough councils.
A spokesman for Scope says it lost sites in Northumberland last year and three of its local shops have been hit particularly hard. "In Ashington, Blyth and Byker their sales are down 10 to 15 per cent on last year, and that's driven by a lack of stock," he says.
If any more London boroughs decide to go down a similar route to Bromley's, he says, the charity could be hit even harder. "In London, Scope's 163 banks represent more than £1.5m worth of annual support for the charity's work with disabled people," he says.
Unfortunately for Scope, it looks likely that a number of other London councils will soon be following Bromley's lead - but this time as part of a pan-London consortium contract for the sale of recycled materials.
A CRA paper on the implications for charities says that if all banks located in local authority sites in London are removed, charity income might fall by £3.2m a year.
A spokesman for London Councils says that some member councils asked it to explore this option, that meetings have been held with nine councils and that it is up to them to decide whether to go ahead with the proposition.
An equalities impact assessment of the proposed contract by London Councils says not all 33 London boroughs would be involved in it, and that not all prime sites for clothing banks, such as those in supermarket car parks, are owned by councils.
Councillor Susan Wise, cabinet member for customer services at Lewisham Council, one of the local authorities interested in the single contract, says: "The working group that is looking at the feasibility of a contract has contacted charities that are involved in this work and hopes they will submit a bid for the work along with other organisations."
She says the consortium could target lower-grade textiles in the hope of preventing them ending up in landfill sites, rather than clothing that is suitable for charity shops.
But a spokeswoman for the environment and recycling charity Traid is sceptical. "If councils want to increase recycling rates, there are a lot of charity providers that would be happy to put out more banks," she says. "As far as we're concerned, councils are doing it to raise revenue, even if it's at the expense of charities."
Not all councils agree that this is the right way to go. Councillor Feryal Demirci, cabinet member for neighbourhoods at Hackney Council, says the local authority has 23 textile recycling banks in the borough that are run by Traid, Islamic Relief and Oxfam.
"The council has previously stated that it will not be joining a London consortium to collect textiles and has no plans to bring this service in-house," she says. "We don't support the idea and we want to continue to support charities."