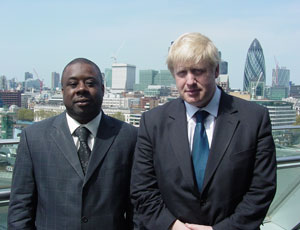 The party had been courting charities for a while before its recent local poll successes.
The local government map of England and Wales is now an unmistakable shade of blue after the May elections. The Conservatives won control of 12 new councils, taking their total to 65. By contrast, Labour and the Liberal Democrats can muster just 30 councils between them. If policy towards the voluntary and community sector at a national level is the preserve of Labour, the Tories are setting the agenda locally.
The largest blue blob on the map is undoubtedly London after Boris Johnson's victory over Ken Livingstone in the mayoral poll. The capital may well provide a laboratory for the Tories to experiment with third sector policies that could be applied across the country by a future Cameron administration.
The first indications are that a Johnson mayoralty will find a big role for the sector, but possibly not the same part of the sector that has enjoyed favour under Labour. One of Johnson's first acts was to appoint a charity leader, Ray Lewis, director of the Eastside Young Leaders Academy, as his deputy mayor. Lewis's brief is to end what Johnson calls the "tragic trend of kids killing other kids".
The organisation he founded in 2002 offers academic coaching and mentoring to young black men in east London, especially those at risk of social exclusion. It has links to the Conservatives - former mayoral candidate Steve Norris is its chairman and shadow Cabinet Office minister Francis Maude sit on its board. And its strict philosophy also marks it out as very different from conventional children's and young people's charities.
One voluntary sector figure in the capital says: "Lewis will be a feisty champion for young people. He does not support the liberal approach to the care and treatment of young people. He won't support a regime that says children can do what they want. The academy is not a free-floating youth club: they have a uniform and they march and salute. It's like a boot camp, and it's quite effective."
That approach might be reminiscent of the 'short, sharp shock' days of the 80s and John Major's proposal for military training in schools. But there are other signs that the Conservatives have undergone a qualitative shift in their attitude to the voluntary sector and the diverse constituencies it represents.
In 2006, the Tories were also celebrating in London, having won polls in 14 London boroughs and gained control of the umbrella body London Councils, which distributes grants to voluntary organisations across the capital. Their first move was to announce a £9m slashing of the grants budget. What particularly irked the Conservatives was funding to ethnic minority and women's groups. "We had vitriol about pandering to single-issue groups that they said were causing division across London and wasting taxpayers' money," recalls Elizabeth Balgobin, chief executive of the London Voluntary Service Council. "It was all 'we will cut things; we will get rid of waste'."A campaign by the sector across London persuaded the Tories to back down.
Two years on, the climate has changed dramatically. Balgobin has been invited to speak at a London Councils summit on leadership and the Conservatives regularly attend the voluntary sector forum in the capital. "The way they talk now, it's like they've had a Damascene conversion," says Balgobin. "Merrick Cockell, chairman of London Councils, never used to talk about poverty. When he talks about London now, he always cites child poverty statistics, and in a really sincere way."
Grant funding still goes to a wide range of groups. At the end of April, £6.2m was awarded to groups helping victims of rape, domestic violence and sexual abuse.
The centralised nature of the British political system means the Conservatives can make only a limited difference at local level. But Gareth Barnard, a Conservative councillor in Bracknell Forest, Berkshire, and vice-chairman of the Local Government Association's community wellbeing board, says that when it comes to policies towards the sector it matters little who in charge at the town hall. Audit inspection of local government through Comprehensive Performance Assessments encourages partnership with the third sector, and many councils, eager to achieve good ratings, are complying.
"It's not a matter of political controversy; councils across the spectrum have a strong level of support for the sector," Barnard says. The split, he argues, is not along political lines, but between councils of all political colours that want to fund the sector to work just outside the boundaries of statutory services, and those that are still reticent about engaging with voluntary organisations.