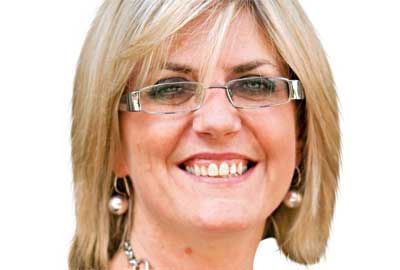 This fixation on size distracts us from the real conversation of defining what people believe a public service is and who should deliver it, says our columnist
The staff at Third Sector and I had a slight contretemps over my last column. I wanted to use the word 'hirsute'; they felt that the word 'hairy' was better. They won, but I still maintain that the word 'hirsute' has a different connotation to the word 'hairy'. I'm not done sulking.
But it got me thinking about how the words we use alter the meaning of the conversations we have and therefore the outcomes. This is particularly critical in the political and economic environment in which we are now operating.
If you hark back to Dave and Nick's budding romance in the garden of Number 10 last year, you might remember that the slogan for the coalition was "Big Society, Not Big Government". That is, government is too big and needs to be smaller. So the narrative for delivering the big society agenda became about size. This, it seems to me, misses the point. I'm not convinced a less interfering, more enabling, more liberal state is necessarily a smaller state, or one that simply outsources much of what it does, either to charities or to the private sector.
Power is not about size or the lack of it (such a masculine paradigm!). Surely it's about behaviour and reach - where power rests and how it is exercised, and what spheres of influence it enters. An elephant is undoubtedly powerful, but so is a mosquito. This focus on size distracts us from the real conversation, which should surely be about defining what people believe a public service is and therefore who should deliver it.
I suspect there are citizens who would agree with me. I don't want the bulk of my public services to be subcontracted to the private sector, or even to charities. I want them delivered by public servants, paid for directly out of my tax-pound and accountable to my local councillor or MP, who is accountable to me. Although the public are probably quite critical of the centralised state, and may well think our public services could be improved, I bet they don't think that an adequate or acceptable replacement is politically unaccountable, profit-driven, private sector-dominated service delivery - even if it does contain snippets and smatterings of charity or social enterprise involvement on the margins or in subordinate roles.
I doubt that a service previously run by the state and now delivered by a corporate is either called or seen as a public service. Ergo, it is not held accountable in the same way as it would be if it was delivered by public servants. Think of the rail network. Have you, like me, been driven off the rails and onto the roads because it's too expensive and not good enough? It's a monopoly, run by the private sector and driven by profit, over which we feel powerless.
Precision in language is important. Words matter. They determine thinking. They connect ideas. A rose by any other name is quite simply not a rose. And hairy is not the same as hirsute ...
Debra Allcock Tyler is chief executive of the Directory of Social Change