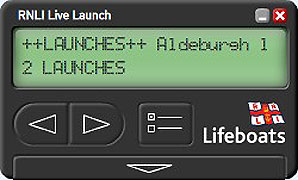 The RNLI is marking its busiest weekend of the year with the launch of a virtual pager that will alert supporters every time a lifeboat is launched.
The pager, which is connected to the charity's real pagers with a short time delay, can be set to appear on users' computer screens every time a lifeboat is launched from any or all of the RNLI's 232 stations in the British Isles.

An extension of the RNLI website's existing launch monitor, the pager also includes a drop-down information banner featuring the latest RNLI news.

Jonathan Clark, who is volunteer coxswain of Poole RNLI's lifeboat in Dorset, said the initiative would meet the wishes of the numerous supporters who had requested more information about launches.

"Although we update the station's website regularly with details of all our shouts, I think this will go a long way towards making sure that people are even more involved with the station and crew," he said.

Up to 200 lifeboat launches are anticipated for the August bank holiday weekend, compared with an average of 20 a day throughout the year. Alison O'Neill, emedia manager at the RNLI, said: "This pager shows just what a busy and vital service RNLI lifeboats provide. We live in a digital age and we hope this virtual pager will bring the RNLI even closer to its supporters."

Supporters will have to register their details to download the pager from the charity's website. Those who do not opt out will be contacted for fundraising and other purposes.