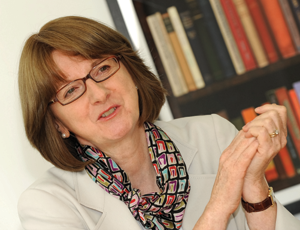 The new chair of the Charity Law Association says the review of the Charities Act 2006 provides a good opportunity to lighten the Charity Commission's load
Ann Phillips, who was elected chair of the Charity Law Association last month, has taken the helm at what she says is a very important time for the sector.
"The CLA has a busy period ahead," she says. "The review of the act is a good opportunity for the sector, and we will form a working party to feed into it."
Phillips, a partner at the law firm Stone King, first joined the CLA's executive committee in 2001, shortly after she began at the firm. Before becoming a charity lawyer, she specialised in tax planning. "I started to focus on charity law as an antidote to that," she says.
She stresses that the CLA has not yet formed its working party on the Charities Act, so her comments on the review do not necessarily represent its views.
She does say, however, that she thinks some areas of the 2006 act are ripe for reform.
"The charity tribunal is an obvious case," she says. "There are some strange anomalies in its jurisdiction that I can't understand. We ought to start thinking that any decision of the Charity Commission in relation to the exercise of its statutory powers can be appealed at the tribunal unless there is a good reason why it shouldn't be."
Phillips says she hopes that in some areas, the review of the act will "make the commission's life a bit easier". She says giving more powers to trustees and removing some of the regulator's legal responsibilities would be a good place to start.
"The commission is having a difficult time trying to provide what it is statutorily required to provide within the confines of its budget," she says. "The review could make that a bit easier."
The need to lighten the commission's regulatory load might also cause the review to consider the system in the act under which the commission would regulate face-to-face fundraising, Phillips says. "I remember that when the system was introduced, some commentators said it wasn't necessarily going to be implemented," she says. "But I think the question of regulating fundraising is on everyone's 'too-hard' pile at the moment.
"The situation as it stands is very complicated; I hope the review offers some simplification."
Read our analysis of the review of the Charities Act 2006