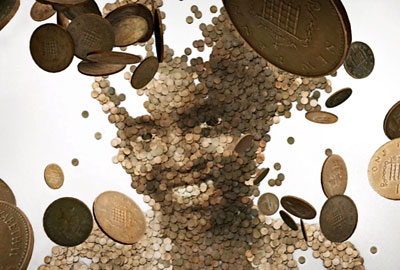 The charity combined site-specific advertising with social media for its latest campaign
The average charity donor is unlikely to get a thank-you note that is broadcast to hundreds of people within seconds.
But that's what happened to people giving money to the MicroLoan Foundation at a west London shopping centre in February.
The messages were part of the charity's Pennies for Life campaign on a digital advertising billboard at Westfield shopping centre on 25 and 26 February, which was intended to raise awareness of the charity.
The billboard urged passers-by to donate money to the campaign by text message. The screen read: "Your small change can make a big difference in Africa. See How. Text CHANGE and your NAME to 70777."
Every time money was donated, a handful of pennies were added to a picture, which would eventually form the face of an African woman, and a personalised thank-you message to the donor flashed up on the screen.
Staff were on hand to explain how to donate. The completed picture on the campaign's website allowed donors to see the size and date of their donation and share it with Twitter and Facebook users.
The MicroLoan Foundation provides business loans and business education to African women so they can work their way out of poverty. The charity thinks about 77,000 people saw the billboard, and traffic on its website rose by 57 per cent that weekend. Its message was retweeted by Twitter users about 250,000 times. The charity does not yet know how much it made from the campaign.
Gemma Oakley, head of fundraising at the MicroLoan Foundation, said: "When you are an international charity it is quite hard for people to interact with you in the same way as with a UK charity. One way to do that is with an interactive media campaign, where people get an instant connection with the women, the work we are doing and the idea that small change can make a big change."
The campaign came about after the charity's supporters tried to raise money in June last year by beating the world record for the longest line of pennies (it didn't succeed). The advertising agency DLKW Lowe, which works free for the charity, took this a step further by designing the digital billboard campaign. The proposal won £50,000 of advertising time on the digital hoarding.
EXPERT VIEW
Ben Matthews, founding director, Bright One
The campaign is a great idea and well executed, not only showing how donations help those in need, but also allowing them to be made in an engaging way. It is mobile and social.
It was great that Gabby Logan, an ambassador, tweeted about it, but the social element that was built in was more crucial. Rather than just a name showing up on the screen, messages were also shared on Facebook and Twitter, allowing the campaign to spread from beyond its fixed location.
The video on how the campaign was received shows the idea worked well, but only with the aid of staff letting people know how it worked. Would so many have taken part if they hadn't been shown how?
Overall, a creative, well-executed idea. It would be interesting to see how many donations this campaign would drive if rolled out across more than one location.
Score:
Creativity: 5
Delivery: 4
Total: 9 out of 10