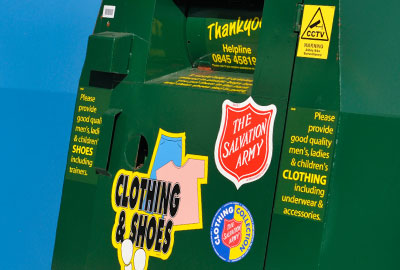 An initial payment of £2m will be followed by more, depending on performance; the charity foresees £34m of pre-tax profit in the next four years
The trading arm of the Salvation Army has agreed to buy the company that operates its clothing collection scheme for up to £12.75m.
In a statement yesterday, the charity said that the Salvation Army Trading Company would intially pay £2m to buy Kettering Textiles. Then, according to the performance of the company over the next three years, could make an additional payment of up to £10.75m.
The Salvation Army estimates that the clothing collection scheme will provide its trading company with about £34m in pre-tax profit over the next four years.
"We believe this is the first deal of its kind in the charitable sector, with a charity acquiring a commercial operator," the statement said.
"This acquisition will give the trading company total control of the scheme and 100 per cent of the profits of this successful commercial business, which has the infrastructure in place to continue to develop and benefit from this lucrative and expanding market opportunity."
In February, the Fundraising Standards Board asked the Salvation Army to resolve a complaint it received about the clothes recycling scheme from a journalist who wrote a critical article about it in The Guardian newspaper.
The article said the directors of Kettering Textiles had earned almost £10m from running the scheme since 2008. It claimed that Nigel Hanger, its managing director, had earned £5m from collections over the previous five years.
Alistair McLean, chief executive of the FRSB, said the regulator found that the solicitation statements used on Salvation Army clothing collections banks did not comply with the codes of fundraising practice or the law because they did not make clear how much the charity would make from the arrangement.
"The Salvation Army responded very quickly to our intervention and almost immediately set about agreeing a new solicitation statement that was compliant and put it on their banks," said McLean.
The charity's statement about the acquisition said that all Kettering Textiles staff would keep their jobs as part of the agreement and that all senior management would remain involved in the business and employed by the trading company for at least two years.
A spokeswoman for the Salvation Army said that all employees' salaries would be protected as part of the arrangement.