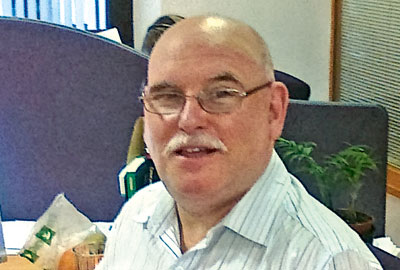 The cancer information nurse specialist at Macmillan Cancer Support recounts his week
Monday: I head to the support line office at 9am, and I know I'm in for a busy day. The first day of the week is always the most hectic, probably because we're closed on Saturday and Sunday and people have been worrying over the weekend. We're usually their first port of call and we deal with everything from short calls about the side effects of a particular drug to the longer, harder ones about end-of-life care.
Tuesday: Back on the support line today, and I'm answering questions again. We get calls not only from people diagnosed with cancer, but also from their carers, their families and their friends. We can answer any medical questions they might have, but sometimes the discussion can lead to broader topics such as what benefits people are entitled to. In those cases, we pass them on to benefits advisers.
Wednesday: I love my job, but it can be emotionally draining, especially after my wife Anne was diagnosed with bowel cancer last November. We don't have many meetings - it is our job to be available to support the people who call. As a result, it can feel non-stop. We take about 20 calls a day each, so it's important we get breaks.
Thursday: Today I'm responsible for responding to the emails sent to our website - we usually do this one day every week. It can be difficult to send an answer that has the right mix of sympathy, knowledge and tact, so we always make sure that a colleague checks and comments on our replies before they are sent. It can be difficult to get the tone right in an email, so this second opinion is really important.
Friday: I'm not sure if it's a coincidence, but Fridays tend to be the days when people are diagnosed at clinics. So we get a lot of anxious calls from people who have left their hospital too shocked to digest the news, but later on are left with hundreds of questions about what will happen next. We do our best to calm them down and provide the information in a comforting and reassuring way.
Macmillan Cancer Support provides assistance to people with cancer and their families and friends
Bill Carlin is a cancer information nurse specialist at Macmillan Cancer Support