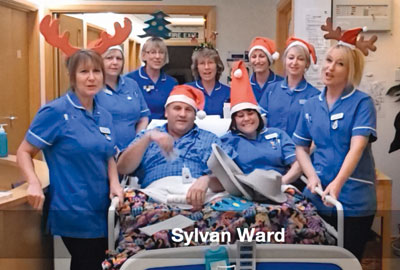 The hospice brought its Christmas campaign to life with its first video e-card
Organisation: St Nicholas Hospice Care
Campaign: Christmas e-card
Agency: None
Some charities spend big money on their Christmas fundraising campaigns, but not St Nicholas Hospice Care. In December 2011, the Bury St Edmunds-based charity produced one of its most successful Christmas card fundraising campaigns without spending a single penny.
The charity made its first video Christmas e-card using the talents of its staff. Its social media fundraiser, Aaron Bridgeforth, took about a day to film the video on a small Flip camera and a few more days to edit the sequences into the finished product.
The video features the nurses of Sylvan ward singing the Christmas song Winter Wonderland, with the lyrics changed to feature clanging bedpans and other medical themes. It then moves on to an art therapy class where patients make a mosaic spelling out the words "Merry Christmas". The film closes with a message from the hospice's chief executive.
The charity persuaded local companies to donate in exchange for using the video as their corporate e-card. It raised £10,000, made up of about 15 donations, which ranged from about £100 to £1,000. Companies that donated were given a link to a page on the charity's website, which hosted the e-card.
EXPERT VIEW
Rob McEvoy, senior copywriter, MRM Meteorite
Christmas, charity, goodwill to all; who could possibly critique this? Me. The stars of this video work towards a far higher purpose than creating good advertising - and it shows. They are genuinely passionate, fun, caring people who enjoyed making this. But it is a cliched, Alan Partridge-style special. If they hadn't chosen the 'in-house' option, they would have got a creative idea, which might have gone viral and brought them in a lot of new sponsors. But they didn't, and the figures reflect this. I'm a bad person.
Expert rating:
Creativity: 2
Delivery: 2
Total: 4 out of 10