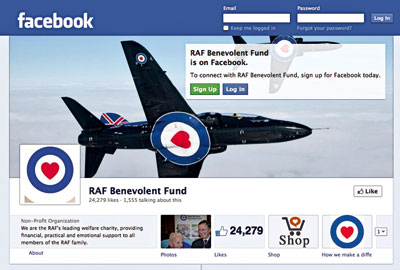 The online communications manager of the RAF Benevolent Fund says the key to using social media is new content and interaction
Charities are often keen to get on Facebook, but not all of them make a success of it. One that has done so is the RAF Benevolent Fund, which supports members of the Royal Air Force and their families.
The fund was the only charity in the top 10 UK Facebook pages with the best-performing YouTube channels, as measured by the social media statistics firm Socialbakers.
The fund's page came ninth behind large companies such as Jaguar and Mercedes-Benz for the percentage of its 'friends' who 'liked' or commented on it.
So how did the fund manage to beat much larger charities to this social media accolade?
Michael Laffan, the charity's online communications manager, says the way to keep supporters coming back for more is to add new content regularly and encourage interaction.
For example, the charity uses Facebook's comments plug-in, which automatically posts comments made on the charity's blog on the commenter's Facebook wall.
"That has a viral effect because someone sees the comment on the wall and then replies to it or visits our website," says Laffan.
Similarly, the charity ensures there is fresh content on the website whenever it has a drive to get new visitors, which it sometimes does through Facebook advertising campaigns.
"If they click 'like' on our Facebook page, then the information we publish on our blog is published on their newsfeed - so they get something new," says Laffan.
The charity generates its own content, posts blogs and videos sent in by people connected with the RAF, and links to RAF-related videos and pictures on other sites. "A lot of the content we publish will be something related to what we do but not directly about us," says Laffan. "We are not plugging our corporate message all the time."
He points out that most of the charity's supporters visit its website, Facebook and Twitter pages outside working hours, which means adding new content ready for those times. On most Fridays the charity posts a question of interest to its supporters to stimulate discussion on its Facebook page; it also puts up a video on Saturdays. This alters Laffan's working hours a bit, but he says he's not glued to a computer all the time. "I might be out at the weekend, but I just respond to something on Twitter using my mobile phone," he says.
The charity's Facebook presence has grown from 150 friends at the start of 2010 to 10,000 a year ago and 22,000 at the start of 2012.
It has done this with a one-man web team, a little Facebook advertising and a relaunch of the website, which is expected to make the charity about 37 per cent more money than it cost to set it up.
Despite the fund's Facebook success, Laffan says some charities might be better off without a page on the site. "Lots of organisations will say 'we will have a Facebook page because everyone else does'," he says. "I would say you do not have to have one - unless you know what you will do with it, you have someone to build it and you resource it, then it you are better off not having one."