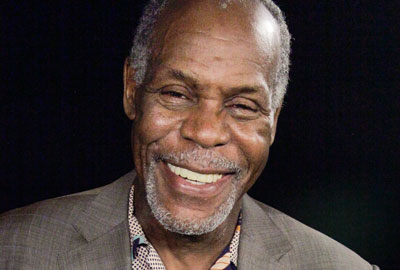 Plus Status Quo, Alfie Boe, Joss Stone, Duncan Goodhew, George Clarke and General Sir Mike Jackson
- The actor Danny Glover will take part in an event to raise funds for the Haiti Emergency Relief Fund, organised by Global Women's Strike, which campaigns for recognition and payment for caring work and the return of military spending to the community. The event, at the Crossroads Women's Centre in Kentish Town, London, will be on 28 April. Glover, who is chair of the advocacy group TransAfrica Forum, has a long-standing interest in Haiti.
- The rock band Status Quo and the singer Alfie Boe have helped to launch an effort by fairsharemusic, the online music store, to raise funds for the music therapy charity Nordoff Robbins. Both Boe and Status Quo are ambassadors for Nordoff Robbins.
- The singer Joss Stone is supporting Cruelty-Free International's campaign for a worldwide ban on the testing of cosmetics on animals. "Thousands of animals die each year for lipstick, toothpaste, fragrance and other products, so it's crucial that we campaign for a global ban," she said. "Cruelty-Free International has taken on this challenge and I am pleased to support it."
- The Olympic gold medal-winning swimmer Duncan Goodhew was at the Olympic Park in east london to meet Paralympic hopefuls who have been given grants by the children's charity Variety. "I know that no one gets to this level by themselves, so it is great to know there is a charity like Variety out there that supports young disabled athletes," he said.
- The TV presenter and architect George Clarke has launched a scheme in which architects provide free consultations to the public in exchange for donations to the housing charities Shelter and Shelter Scotland. The Architect in the House scheme, run with the Royal Incorporation of Architects in Scotland and the Royal Institute of British Architects, is in its 16th year and has raised more than £1.5m.
- The former head of the British Army, General Sir Mike Jackson, has become president of ABF The Soldiers' Charity. "I am delighted to be the president of ABF The Soldiers' Charity, which provides such vital support to our soldiers, their families and our veterans," he said.