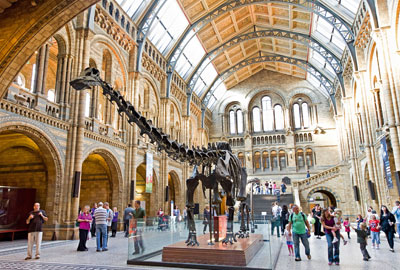 Event planned for Natural History Museum will be very different from the one outlined in the Giving White Paper, says the NCVO's Karl Wilding
Voluntary sector umbrella bodies have criticised what they see as a scaling back of the government's Giving Summit, due to take place on 8 May.
The Cabinet Office's Giving White Paper, published last May and launched at an event by David Cameron, the Prime Minister, set out plans for a Giving Summit to take place that autumn.
"This will be a platform for ideas generation, networking and decision-making, bringing together leaders and innovators from business, social enterprises, charities, community groups, academia and government," the paper said. "We hope it will enable more social innovators to build the connections they need to make their ideas a reality."
The summit had since been scheduled to take place at the Natural History Museum in London on 8 May.
Karl Wilding, head of research at the National Council for Voluntary Organisations, said it now looked as if the summit would be very different from what was described in the white paper.
He said he understood that the summit would consist of a meeting of the chairs of a number of working groups set up to discuss various aspects of philanthropy.
Wilding said the Cabinet Office had been "put in an extremely difficult position by the Treasury" because of the Budget announcement of a cap on tax relief on charitable donations, which has caused an outcry in the sector. "It would have been difficult to go ahead with a celebration of philanthropy while the tax relief cap issue remains unresolved," he said.
Peter Kyle, deputy chief executive of the chief executives body Acevo, said it looked as though the summit had been scaled back.
"It's no longer a summit," he said. "We expected representations from the highest levels of government. This was a potential bookend for the sector."
Kyle said that unless members from the highest levels of government were present, the best the sector could hope for was that those present would feed back any ideas into government, and the government would get back to the sector with any decisions.
"The way the government is continuing down this path does not make me feel they are willing to engage with us," he said.
A spokeswoman for the Cabinet Office said in a statement that the summit would still take place on 8 May.
"It will pull together the work of a number of action groups set up with the sector to advance thinking on a range of issues," she said. She declined to give any further information.
Charity leaders warned last month that the summit was in danger unless the government withdrew the proposed cap, announced in the Budget.
If the cap is not withdrawn, the tax relief an individual can claim in any year will be limited to a quarter of their income or £50,000, whichever is higher, from April 2013.