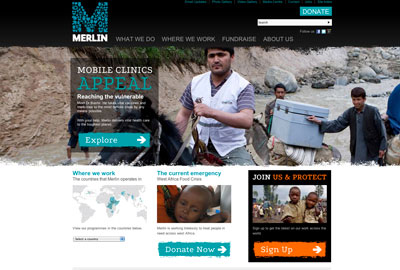 The medical aid charity launched a new website last month
Organisation: Merlin
Agency: Convio
Spend: £17,000
Merlin is an international medical aid charity. Founded in 1993, it now employs 6,000 staff in 16 countries.
Development
The charity rebranded in 2010 to show more clearly that it is a specialist medical NGO rather than a general aid organisation. In September last year, it began trying to make its new brand work digitally. After conducting focus groups and research, the charity appointed the agency Convio in November and the site went live in April.
Design and content
The navigation bar has four options: what we do, where we work, fundraise and about us. The old site was considered too text-heavy and confusing, so the new navigation gives visitors instant information about Merlin. The "campaign takeover banner" beneath the navigation bar tells visitors how donations fund simple gifts, such as no-frills buses, horses and trees, that make huge differences to lives. Engaging photos are used widely to tell the stories. Data analysis showed visitors were more likely to continue their journey through the site if they saw images.
Special features
The navigation bar enables people to see what each tab takes them to without having to click through. This allows visitors to find out more about the charity with just one click. The site has social media links and is designed for use on mobile phones. Overall, it does a good job of simplifying the charity's complex work.
Merlin says:
Deniz Hassan, digital marketing manager at Merlin, says: "We wanted to pare the site down to our key messages and present them in accessible ways."
SCORE
Navigation: 5
Accessibility: 4
Innovation: 5
Content: 4
Total: 18 out of 20