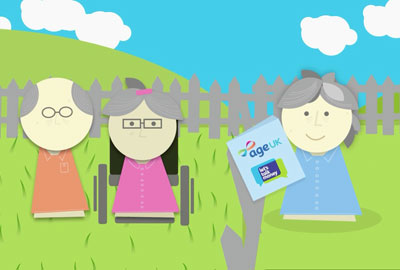 The charity has launched an online animated film to remind older people that they could be entitled to some of the millions of pounds of benefits and tax credits that go unclaimed each year
What is it?
Age UK has launched a short animated film to raise awareness of the benefits and tax credits that older people might not be aware they are entitled to. The charity estimates that unclaimed benefits and tax credits are worth £10bn a year, about £5.5bn of which goes unclaimed by older people. The film directs viewers to a telephone number and web address where they can find out what they might be able to claim. The animation, which forms part of the charity's More Money in Your Pocket campaign, was produced by Nutmeg Productions.
Why did they decide to make an an animated film?
The charity has found that many people do not like talking about money, so the idea was that animated characters would tell the story better. Age UK also wanted to make a film that would make sense without sound so that it could be shown in places such as GP surgeries.
Where will the film be shown?
The film can be viewed on the Age UK website as well as on YouTube. The charity is also hoping to encourage other venues to show the film.
What problems does the charity aim to surmount?
The film tells the story of a person struggling to care for someone because of mounting bills, which makes the protagonist feel down. The film points out that many older people who own their own homes and have savings do not believe they are entitled to extra financial help from the state. It encourages older people to contact Age UK and discuss whether they might be entitled to extra financial help.
Third Sector verdict:
The film successfully highlights the question of unclaimed benefits with a first-person account of an older person struggling to care for someone because of financial problems. The film is commendable in that it effectively addresses the reservations some older people may have about seeking financial assistance, encouraging them to contact Age UK to discuss the possibility of claiming benefits even if they have doubts about whether they will be entitled to them.