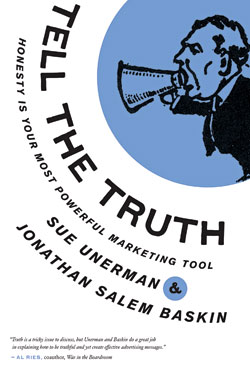 Emma De Vita reviews the new book by Sue Unerman and Jonathan Salem Baskin
Sue Unerman and Jonathan Salem Baskin are global marketing strategists who argue that the only way a brand can stand out from the rest of the crowd is by telling the truth. "Marketing with honesty is the only strategy that truly works," they say.
The idea that advertising can be absolutely truthful might seem oxymoronic to many, but today, the most effective brands are the ones that promote themselves by being truthful. They don't oversell themselves and they hold their hands up when something goes wrong.
It's an approach that should pervade the entire organisation - especially if it is a charity. It's your job to train your employees to be warm and helpful towards their colleagues and your donors. You must ensure that experience lives up to expectation, that apologies are made for mistakes and that the marketing you send out is matched by what you do.
In practice, it means having conversations with your colleagues and your charity's stakeholders to understand what they want and expect. Everyone in an organisation markets it, whether knowingly or not, and as the authors say: "The truth is the true future of successful marketing." How truthful are you?
Emma De Vita is books editor of Management Today