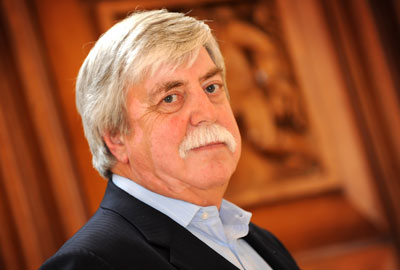 Charity Bank's outgoing chief executive says social finance started small but could easily reach £2bn
When Malcolm Hayday first started work on Charity Bank, he encountered resistance from some in the third sector. "We went to one fundraising conference where people came up to us with matchsticks held up like crosses saying 'you are the antichrist','" he says. "There was a high degree of scepticism about whether it was needed."
It wasn't only the sector that resisted the idea of a bank that lends purely to charities and social enterprises. "It also took real persistence to persuade the regulators," he says. "It took some imagination from the Financial Services Authority, the Charity Commission and the tax authorities."
But Hayday persisted, the bank was set up and, in his 10 years at the helm, he has seen the organisation's balance sheet grow from £6m to £85m. He believes it could grow by another six times in the next decade.
The idea for Charity Bank came when Hayday joined the Charities Aid Foundation in 1993 after a long career in banking. At that time commercial banks saw the sector as a source of cheap money, he says. Deposits were "hoovered up" and little was paid out in return: "Banks didn't believe charities wanted to borrow money. Charities themselves were very cautious. But there was a realisation among a few organisations that this was something worth exploring."
Today he feels the case is proved: the bank is making a profit, has loaned money to more than 1,000 organisations and has a default rate of only 0.5 per cent. Hayday expects to leave in September, having been diagnosed with deep vein thrombosis – he says this was "a sign that it was time to slow down". A new chief executive is waiting in the wings, subject to Financial Services Authority approval.
He leaves a sector that has gone through considerable change. When Charity Bank was established in 2002, there were virtually no other social finance organisations. "Now I think that social finance could grow to a couple of billion pounds a year, quite easily," he says.
His own bank, he says, will continue ploughing the same narrow furrow of asset-based lending, but in the wider sector he sees a risk curve beginning to develop, including more organisations that will offer long-term investment rather than debt finance to charities. But in order for the market to develop further, he says, there must be a way for those organisations to sell that risk on to other investors.
"Most of the innovation is currently being funded by a small number of trusts and foundations and there's a limit to their appetite," Hayday says. "We need a secondary market to create liquidity."
However, he does not believe that social investment should be seen as a panacea. Many sector organisations are relatively small and are not suited to this type of capital, he says. "What's being developed will benefit organisations that have the capability to grow much bigger and be prime contractors," he says.
Hayday sees public service delivery as a major reason why the sector needs to access social finance, but says it must not move from "grant dependency" to dependency on large public sector contracts.
Initially, he says, "a very significant amount" of social investment will go towards making charities and social enterprises strong enough to win government contracts.
"For years charities have been encouraged not to be properly capitalised because that was deemed to be a waste of money," he says. "In the private sector, you're asked for a price and you include the cost of finance and a profit margin. In the charity sector, you're asked what your costs are and – if you're lucky – you get full cost recovery. Yet when it comes to competing for contracts, third sector organisations are expected to be as strong as private companies."
In the long run, Hayday says, the sector can follow in the footsteps of social enterprises such as the public transport provider the HCT Group and the utilities supplier Welsh Water and compete in those markets. He also believes that voluntary sector organisations can offer their own finance. "There's no reason why there couldn't be a social bank as big as Barclays," he says.
On the other hand, people such as Laurence Demarco, co-founder of Senscot, the Scottish social enterprise network, believe such changes will drive the sector into satisfying investors and employers, rather than looking after beneficiaries.
"I think people are smart enough generally to know what they are getting themselves into," says Hayday. "But it's important that social finance helps people fulfil their missions rather than forcing them down a road that narrows their options. The heart of the sector is still voluntary activity; we shouldn't lose sight of that."
CV
2002 Chief executive, Charity Bank
1995 Director, Investors in Society, and director of community finance, Charities Aid Foundation
1993 Head of loans service, CAF
1991 Principal, Caburn Investments