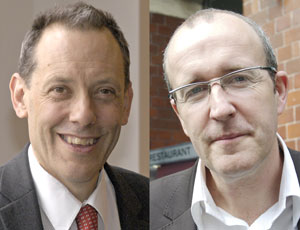 Is the purpose of social business to provide a social good, or is it to promote a model that keeps wealth in the hands of communities? David Ainsworth explores the debate
That's the question causing division between two of the leading lights of the social enterprise movement: Jonathan Bland, chief executive of the Social Enterprise Coalition, and Liam Black, a founder of and former ambassador for the coalition.
Bland believes it is not enough to persuade existing businesses to conduct themselves in a more ethically and socially aware way.
Instead, he says, the social enterprise movement needs to persuade the whole country to take up more social models in the future.
But Black has criticised the umbrella body he helped create for "losing its way" and concentrating too much on promoting a model rather than a motive.
He believes it would be more useful if it were to encourage all entrepreneurs to run their businesses in an ethical fashion.
Bland says the past year has shown how much the whole model in which shareholders own a business for the purposes of their own profit is something that needs to be changed.
"It's clear that we need to have an economy that is properly regulated," he says. "We need to have business models that serve the community, not distant investors.
"There are a range of models that generate long-term benefit to communities and we need to encourage those models to be taken up.
"It's not about patching the economy up in the short term. It's about building a better economy. And the work of the coalition, for the moment, is about that."
Black says it was a strategic error to limit the definition of social enterprise to a business that has both a social purpose and limits on profit distribution written into its constitution.
"The important thing is to get people creating wealth in a social way," he says. "Many private entrepreneurs want their businesses to create social value, and the social enterprise movement should be setting an example. But instead it's locked itself into a little ghetto."
Black says the coalition appears to want to wait until the sector is big enough to create a tipping point.
"But there are only 50,000 or so social enterprises, and the model is difficult to grow," he insists. "Its strategy is not a good strategy, and it won't work."
- Rod Schwartz, chief executive, social venture capital firm Catalyst
"A lot of energy and effort in social enterprise is wasted on form as opposed to substance. Too much effort goes into improving models. We don't need to use different structures from the rest of the business world. We shouldn't create legal structures that stop people getting rich for having a good idea. We should encourage them to make money, so long as they are producing a social good as well."
- Matthew Thomson, chief executive, London Community Recycling Network
"Social enterprise is more a state of mind than a legal form. We already have a legal structure that is supposed to be the be all and end all of social enterprise, the community interest company, but it hasn't worked out like that. The importance of a social enterprise model could become more important in the long run if tax breaks are introduced."
- Dai Powell, chief executive, transport and training organisation the HCT Group
"Any social entrepreneur will use or bend whatever structure they have to achieve their mission. But it's naive to think structures don't matter. For a sustained social mission, governance is important. When many former mutual societies sold out in the 1980s, they sold social value that had been built up by generations for the financial gain of a few."