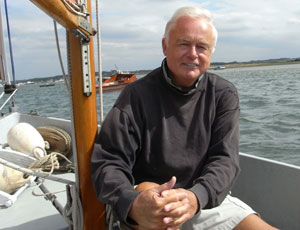 The former newsreader and YouthNet founder is expected to be the next chair of the NCVO. He tells John Plummer why he believes trustees should not be paid
Many people know Martyn Lewis as the newsreader who announced Princess Diana's death in 1997. But few are aware of the extent of his involvement in the voluntary sector.
However, his profile in the sector is likely to rise now that trustees at the NCVO have chosen him as their preferred candidate to succeed Sir Graham Melmoth as chair. Members of the umbrella body have until the end of August to propose other candidates, who must also be approved by trustees before a vote can take place. If none emerge, Lewis will be appointed when Melmoth stands down in November.
Lewis's involvement with charities dates back nearly three decades. He founded the online volunteering charity YouthNet in 1995 and is its current chair. He is also vice-chairman of Help the Hospices, Marie Curie Cancer Care and Macmillan Cancer Support, and is president of learning disabilities charity United Response.
"I find charities the perfect antidote to the cynicism I find in journalism," he says.
The 50-day a year, three-year term at the NCVO is unpaid, and Lewis would not have it any other way. "I'm not in favour of paying trustees and I never have been," he says. "I have never worked in any charity where trustees have been paid and most trustees never wanted paying. You can bring real independence of judgement to an organisation if you are not dependent on it financially."
He praises Melmoth for "radically transforming" the NCVO. "He has put in place tremendous rules on governance and risk assessment and has reduced the board from 40 to 12," he says. "A board of 40 is completely unwieldy."
The NCVO's main challenge, says Lewis, will be working with the new government over the bumpy financial years ahead. "The government is going to use the sector more and more," he says. "The challenge is to explain to government the ways in which the sector can help but make sure charities are not taken advantage of."
Lewis says charities are right to accept state funding to run services as long as it doesn't account for more than 49 per cent of their income. "If it gets to 50 per cent there is a real risk the bureaucrats will take over," he says.
He describes the NCVO as "part of the sector's DNA" and says he would like to see it do more.
"It has very sturdy legs, but I'd like to see if it can drill down even deeper," he says. He would like it to become a "charity doctor" that members turn to, whatever problems they encounter.
He'd also like to find ways to secure greater media coverage for charities. "The media intrinsically goes for the negative, and charities have positive stories," he says. Lewis accepts this will be a challenge, even for an experienced journalist.