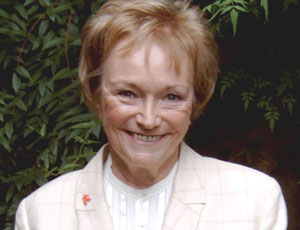 The executive director of CSV, who announces her retirement today, reflects on the ups and downs of her career
Few charity chief executives have been in the sector for longer than Dame Elisabeth Hoodless, who announced today that she will retire as executive director of volunteering charity CSV next February.
Hoodless became assistant director of the charity in 1963 at the age of 22, and was appointed as its executive director in 1986.
She says she is proud of much of what the charity has achieved in the past 47 years, particularly in raising the profile of volunteering.
The charity's relationship with the state has changed significantly during that time, says Hoodless. In a book about charities that were set up during the 1960s, she recalls CSV's founder, Dr Alec Dickson, saying he thought the Home Office had a flashing red light that went off every time the charity called so staff could think up excuses before they picked up the phone.
"I don't think the flashing red lights are there any more," she says. "Governments have acknowledged that we come up with good ideas and cost-effective solutions."
But she has a number of concerns about the future. "The government at every level is looking for more for less," she says. "We take a firm line: we don't provide volunteers to replace sacked paid staff.
"But there is a risk that this will start to happen more as cuts come in. I suppose if the money and the staff are not there, it's better to have volunteers than to have nobody to keep the services running."
Hoodless, a long-term Labour Party member and former Labour councillor for Islington in north London, quit the party shortly before Tony Blair stood down as its leader in 2007.
"The Labour government scrapped the 10p tax band and cut benefits for single mothers, and I had to ask myself why I was paying money to a party that behaved in that way," she says. "So I quit. I'm not a member of any party any more."
She gives a cautious welcome to the coalition government's big society agenda. "It isn't new, of course, but there's a lot to be said for it," she says. "I think the national citizen service plan is interesting, and a step in the right direction.
"But from the evidence I've seen, its cost per placement is very high. And what we really need is a full-time, year-long volunteering scheme for young people.
"My biggest sadness is that we haven't got projects like this, and my biggest hope for the future is that we will."
Another challenge, she says, will be maintaining funding for CSV itself, which gets 79 per cent of its income from statutory sources. "We're always worried about government funding," she says. "But we get our funding from seven different departments, as well as local authorities and health authorities, so there's some stability there.
"My successor will have to be a leader, with excellent influencing skills."