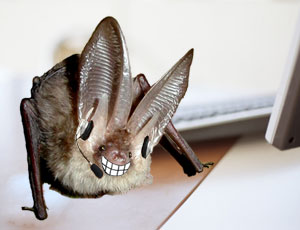 The Bat Conservation Trust uses 'Nora Batty' to promote the National Bat Helpline and to correct common misconceptions about bats
What is it?
A two-minute animated film in which a fictional bat, Nora Batty - a friendly BCT helpline officer from the north with her own Facebook page - explains how the National Bat Helpline works, has a natter with a caller and asks for donations to keep the helpline running. June to September is the trust's busiest time.
Why this approach?
The video was uploaded on See the Difference, the website where charities showcase their appeals. "This is our first attempt at a fundraising film," says Heather McFarlane, communications and development manager at the trust. "We needed a way to get people to understand and talk about the helpline, so we created a character that people could take to heart."
Who designed it?
The video was designed and produced in-house. Steve Lonergan, communications and membership officer at the charity, compiled the animation after joining an online training session held by See the Difference.
How much did it cost?
Nothing – only staff time.
How has it been promoted?
To build support before its launch, supporters were asked to vote on what to name the fictional bat - Nora won the most votes. Since its launch, the film has been promoted in Bat News, a magaizine for members, e-bulletins on the BCT website and through social media.
How effective has it been?
Only £92 has been raised so far on the See the Difference site, but the video has also increased awareness. The trust has set a target of £1,000.
Third Sector Verdict
A charming animation with the potential to develop Nora's character and engage more support.