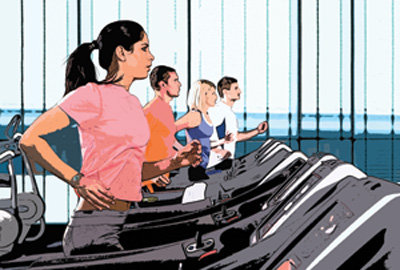 More than 100 leisure trusts, most with charitable status, have been created in recent years. Ben Cook looks at their origins, the reasons for their expansion and the continuing debate over their independence. And Peter Cardy, chief executive of Aquaterra Leisure, argues that their services improve people's lives and are indeed charitable
In the past two decades, a new part of the third sector landscape has appeared: more than 100 leisure trusts, charities and mutuals.
Some of them run a wide range of services on behalf of local authorities and the NHS; some have a cultural focus - theatres, art galleries, museums, libraries. But most operate leisure, fitness and sports facilities that were previously run by local government - discretionary services rather than statutory obligations. Most of the leisure trusts are registered charities and members of the representative body Sporta, and they have a combined turnover of £739m.
But the decision to grant charitable status to such bodies was controversial from the start, and remains so.
HOW IT ALL STARTED IN WIGAN ...
When Wigan Leisure & Culture Trust, a limited company created by Wigan Council to provide its leisure services, applied to register as an independent charity in 2003, the Charity Commission said no - it was not satisfied the trust had been established for exclusively charitable purposes.
But the company appealed and, in 2004, the commission changed its mind. It noted that board members of the trust were selected by an open process after extensive consultation and advertisement, and that it had appropriate provisions to manage conflicts of interest relating to council representatives on the board. Trafford Community Leisure Trust, which was similarly constituted, was also granted charitable status.
The decision was controversial, partly because of doubts that such trusts were really independent and fears that public perception of the sector would be damaged. It also appeared to break new ground by permitting charities to carry out services that councils are bound by law to provide, such as libraries, as well as non-statutory services, such as swimming pools.
Since this decision, the charitable leisure trust sector has rarely looked back, and now more than 100 trusts have registered as charities, with a combined turnover approaching £750m. In February this year, the Charity Commission published a public benefit assessment report on the WLCT, confirming that it was a charity operating for the public benefit. It said that the trust also operated a tourism service and that the promotion of tourism was not a charitable purpose, but concluded that this was "incidental and ancillary to those activities undertaken to promote the charity's aims, such as the provision of facilities for art and recreation".
The WLCT now has a turnover of more than £35m, of which 46 per cent comes from Wigan Council, 9 per cent from primary care trusts, 25 per cent from fees and charges, and 20 per cent from grants and other sources. The trust has 11 trustees, of which two are representatives of the local council. It is structured around "core services": sport and healthy living; environment and sustainability; libraries, heritage and arts; business and service development; corporate support services; and financial services.
The trust also has two wholly owned trading subsidiaries: Wigan Leisure and Culture Enterprises Limited and Proco Enterprises. These are responsible for grounds maintenance and operating conference and catering facilities.
Read about the advantages of forming a trust for leisure and cultural services
Find out why leisure trusts were granted charitable status
See what Peter Cardy, chief executive of Aquaterra Leisure, has to say