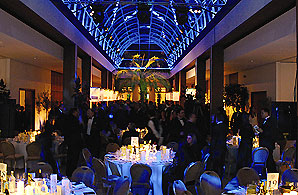 When you gather 27 third sector experts together in a room and ask them to give their opinions on more than 350 awards entries, there's bound to be some creative tension - especially when some of those experts are strong personalities.
So when our judges split into specialist sub-groups in the Haymarket boardroom last month and focused on the merits of the contenders in 21 of the 24 categories of the Third Sector Excellence Awards, some sparks flew. It proved to be a lively and productive day.
Some discussions went smoothly and quickly, while others were more intense and deeply felt: are the verbal or the visual elements of a campaign more important? How do you balance the benefit someone gets from volunteering against the results they achieve? How do you measure teamwork?
Once the debates were over and the scoring completed, a dominant theme among the judges was that the entries had reminded them of the abiding creativity and innovation of charities and voluntary organisations. "I found it really exhilarating," said one.
The judges' scoring was analysed to produce the list of finalists we publish today - nearly 110 examples of outstanding campaigns and projects among which are the winners and highly commended. The three Third Sector awards were judged later by the magazine's staff.
The next stage is the prestigious awards night on Thursday 20 September at the Hurlingham Club in London, pictured on the right. We hope you will be able to come and enjoy a convivial evening, celebrate the achievements of the sector, watch the winners receive their prizes - and maybe receive one yourself.
The finalists
Communications
Brand development
Beat
British Heart Foundation
Forum For the Future
Get Connected Helpline
Myeloma UK
Penny Brohn Cancer Care
Best use of digital media
Chartered Institute of Personnel and Development
Crisis UK
I Can
NSPCC
The Queen's Nursing Institute
Voluntary Action Media Unit
Best website
(sponsored by Rapidata)
Action for Blind People
Cats Protection
Lewis-Manning Hospice
National Federation of Women's Institutes
PDSA
The Rayne Foundation
Best communications campaign
Beatbullying
Every Disabled Child Matters
History Matters
MND Association
Myeloma UK
National Federation of Women's Institutes
Best communications team
British Heart Foundation
The Children's Society
Community Press Office
NSPCC
The Prince's Trust
Finance
Best annual report
Army Benevolent Fund
Borderline
Hilton in the Community
The Prostate Cancer Charity
Refugee Council
Sightsavers International
Best investment strategy
Winner to be announced on the night
Best finance team
Kent Union
The Stroke Association
Terrence Higgins Trust
Fundraising
Best direct marketing campaign
sponsored by Everyclick

Amnesty International
British Red Cross
Crisis UK
Norwood
Practical Action
RNLI
Royal British Legion
Best fundraising event
Ark: 2007 fundraising party
Barnardo's: Store Wars
Breast Cancer Campaign: Wear it Pink
Dearne Valley Venture: Absolutely Fabulous fashion show
North Devon Hospice: Nightwalk 2007
Sport Relief: David Walliams' Channel swim
Youthnet: A Million for a Million Ball
Best fundraising team
(Sponsored by Everyclick)

The Children's Society
Crisis
Durham University Charities Kommittee (Duck)
East Anglian Air Ambulance
Leonard Cheshire
NSPCC
Unicef UK
Innovation
Innovation in grant making
Futurebuilders England
Rayne Foundation
v
Enterprise
Barnardo's Hamara Family Project
Community Foundation for Greater Manchester
Donate As You Spend
Sue Ryder Care
At work
Best employer
(Sponsored by Charity People)

The Children's Society
Forum For the Future
Leeds University Union
ProjectScotland
Thames Reach
Employee innovation
(Sponsored by Russam GMS)

Winner to be announced on the night
Volunteer of the year
- Jade Amoli Jackson, Refugee Council
- Pam Carnegie, Mentor UK
- Mark Liddell, National Rheumatoid Arthritis Society
- Pamela MacInnes, Sense Scotland
- Vickie Morton, St Giles Trust
- Dennis Rogers, Thames Reach
Partnerships
Best charity partnership
Charityshare: the NSPCC, the Children's Society, the Alzheimer's Society
GreenArc project: a partnership of 13 organisations
History Matters: National Trust, English Heritage, Historic Houses Association, the Civic Trust, Heritage Lottery Fund
HMP Foston Hall Link Worker scheme: P3, Revolving Doors
Mind the Gap project: Mentor UK, Adfam, Grandparents Plus
Best corporate partnership
Cancer Research UK and Network Rail
Leonard Cheshire and Howdens Joinery
National Autistic Society
QED-UK and Bradford & Bingley
Terrence Higgins Trust and Erotica 2006
Ulster Cancer Foundation and Gordons Chemists
Weston Spirit and 02
Best use of the compact
Alstrom Syndrome UK
Edinburgh Voluntary Organisations' Council
Hertfordshire County Council
Governance
Most improved trustee board
BTCV
King's College London Students' Union
Quarriers
St Anne's Community Services
Accountability and transparency
AfriKids
Cancerbackup
School Governors' One-Stop Shop
Shared Interest
Third Sector awards
Lifetime achievement
Winner to be announced on the night

Small charity, big achiever
Afrikids
Beatbullying
Coventry & Warwickshire YMCA
The Relationships Centre
SpeakersBank
Vassall Centre Trust
The changing the world award
ATM Watch
Every Disabled Child Matters
The awards night
Venue
The awards will take place on Thursday 20 September at the Hurlingham Club, Ranelagh Gardens, London SW6
Ticket bookings
To book individual tickets or a table for 10 people, contact Steven Lewis, 020 8267 4042, steven.lewis@haymarket.com.
Sponsorship
If you are interested in finding out more about how to sponsor a category, contact Deniz Hassan, 020 8267 4813, deniz.hassan@haymarket.com.
The Third Sector Excellence Awards 2008
If you would like to receive an entry pack for next year's awards as soon as it is available, please send your contact details to Emma Maier.

Website
For more information, go to www.thirdsectorexcellenceawards.com.