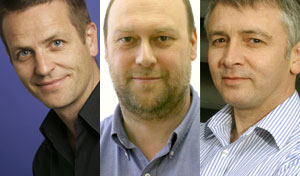 Three experts offer contrasting views on proposals to allow charities to compare themselves with others in their advertising
Caution, approval and outright condemnation: three experts have offered contrasting views on the proposal to allow charities to compare themselves with others in their advertising.
Fundraising guru Adrian Sargeant says the proposal is "bizarre" and "a bad idea", but marketing man Mike Colling says it would "throw the cold light of truth on charities' spending".
The code on TV advertising currently says ads "must not include comparisons with other charities, non-charitable voluntary bodies or government aid agencies". But the Committee of Advertising Practice and the Broadcast Committee of Advertising Practice, the bodies responsible for writing and maintaining the advertising codes, have published a review of the guidelines that says consumers and charities might benefit from such comparisons.
A BCAP spokesman said: "There is no law against charities comparing themselves with others in their advertising, so CAP and BCAP felt they should bring their advertising code into line with this."
The review says rules would ensure adverts were not irresponsible and comparisons not misleading, but it admits that 'tit-for-tat' charity comparison advertising might bring the sector into disrepute and have an adverse effect on donations.
What happens in the US?
Charities in the US can compare themselves with others in adverts, but must be able to prove that comparisons are correct and legitimate. "It makes a lot of sense that charities would want to compare and contrast themselves with their peers," says Sandra Miniutti, vice president of marketing at Charity Navigator, which evaluates the efficiency of US charities. "Many charities offer duplicate services. With donations falling in the difficult economic climate, charities probably welcome the opportunity to compare themselves with their less efficient peers in their marketing materials."
RICHARD HILL
Strategy director of marketing agency Touch DDB
"I don't think most potential donors compare charities when they decide who to give money to - it's more often a short-term response to a particular campaign. By raising the issue of one charity being more efficient than another, we'd risk making donors question the efficiency of charity spending more generally, which might put them off donating. It could also force charities to spend more on advertising in order to defend their positions, which many donors would see as a waste of money. I understand why comparisons between organisations are an effective strategy in the commercial sector, but they could ruin the voluntary sector."
MIKE COLLING
Managing director of marketing agency MC&C
"The sector should applaud this move. Any charity representing itself as competent in the execution of its services should be prepared to substantiate this. Competitive advertising will throw the cold light of truth on charities' spending and make them more transparent. I don't think charities will start knocking each other in their ad campaigns, but they will compare themselves with sector averages. They'll also compare the scale of their operations and say things like 'our donors see more of their pound going to the cause'. This will accelerate the trend for charities to benchmark themselves against the best in the sector."
ADRIAN SARGEANT
Professor of fundraising, formerly at Bristol Business School and now in Indianapolis, US
"This is a bad idea. It could be very damaging for a charity to be seen to be attacking its competitors. Efficiency measures are likely to dominate these comparisons, and these can be grossly misleading. If the best thing a charity can say about itself is that it spends less on fundraising or administration than another, that is a sad state of affairs. Such advertising could backfire, and I suspect such cherry-picking may also prove unlawful. If the authors of these proposals understood charity efficiency, they wouldn't suggest such a bizarre change to the rules."